posted on 19 Jun 2017 10:13 by pressrelease in Sport
Under the victorious aura of Pele the King of football, Hublot marks the time for all the highlights of Planet Football.
On 16 June 2017, in the heart of Moscow, Hublot inaugurated its new store in the historic Metropol building. It is no coincidence that Hublot chose this precise moment in time. Just one year from the FIFA World Cup(TM), and one day from the launch of the FIFA Confederations Cup(TM), on Red Square, the World Cup record-holder Pele placed his winning touch on time. Together with Ricardo Guadalupe, CEO of Hublot, he attended a ribbon-cutting ceremony to the sound of a whistle, signalling once again Hublot's uncompromising commitment to football. From its status as "Official FIFA Watch" of the 2018 World CupTM, "Official FIFA Timekeeper" of the 2017 Confederations CupTM and the 2018 World CupTM, its 4th official boards, Hublot reigns supreme in timekeeping and football!
(Photo: http://mma.prnewswire.com/media/524401/Alexey_Smertin__Pele__Ricardo_Guadalupe__Philippe_Le_Floc_h.jpg )
(Photo: http://mma.prnewswire.com/media/524403/Pele__Ricardo_Guadalupe.jpg )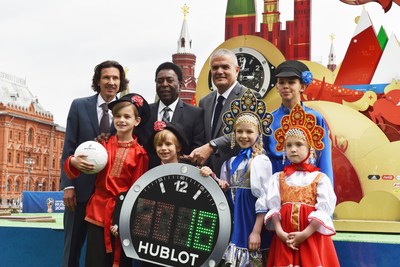 (Photo: http://mma.prnewswire.com/media/524402/Alexey_Smertin__Pele__Ricardo_Guadalupe.jpg )
(Photo: http://mma.prnewswire.com/media/524404/Philippe_Le_Floc_h__Ricardo_Guadalupe__Pele.jpg )
In its new 120m2 Metropol shop, Hublot brought its friends together to celebrate the 12 months that separate us from the start of the next FIFA World Cup(TM). Alongside the Swiss watchmaker was football King Pele, the unrivalled World Champion, being the only triple winner of the tournament to date.
From tomorrow and onwards for more than a year one year, the world of football will have its eyes fixed on Russia. A Planet Football will exist, now and always, on Hublot time. For its 3rd participation in the FIFA World CupTM, from South Africa and Brazil, Hublot will have the honour of timekeeping for the most popular international competition on earth. From 14 June to 15 July 2018, Russia will host the 21st FIFA World CupTM, but before this, kick off for the FIFA Confederations Cup 2017(TM) will start tomorrow at 6pm.
Hublot is the official timekeeper of the FIFA Confederations Cup 2017(TM) and is paying tribute to the eight footballing nations that will compete on the pitch by presenting a unique series of interchangeable straps in the colours of participating countries on its emblematic Big Bang Unico model. On the pitch, the watchmaker will dominate the game by sequencing the time, player changes and extra time to the rhythm of its official's boards in the form of the Big Bang model.
Source: Hublot